2017 Scholarship Winner is Jason Kronenfeld. He is attending the University of Arizona in the fall and majoring in PreMed.
Books for Teachers 2017 – Special Project
Private donors gave money for projects that positively impact students in our area schools. One project that stands out for its creativity is set to happen in Doolen Middle School in the Tucson Unified School District.
Principal Renee Morales, a resident right here in Oro Valley, has been an educator and leader in education for over 20 years. She and her faculty have used the special project funds as seed money to set up a school-wide read in this school year and for the start of next school year by purchasing enough books for the library so all Doolen students could read and study Stephen Covey's Seven Habits of Highly Effective People.
Covey's book uses the principles of fairness, integrity, honesty and human dignity to help people solve personal and professional problems.

2016 Books for Teachers Initiative
The Friends of the Oro Valley Public Library are soliciting applications at the end of August for teachers who want to participate in the Books for Teachers Program. The selected teachers will receive $50 to purchase new books for their students. Applications will go out at the end of August to the following 32 schools in Amphi, Flowing Wells, Marana and Tucson Unified School Districts.
2015-17 Participating Schools
Amphitheater School District
Copper Creek Elementary
*Coronado Elementary
*Donaldson Elementary
*Holaway Elementary
*Keeling Elementary
*Mesa Verde Elementary
*Nash Elementary
Painted Sky Elementary
*Prince Elementary:
*Rio Vista Elementary
*Walker Elementary
Wilson K-8
Marana School District
*Picture Rocks Elementary (Consolidation with *Desert Winds Elementary)
*Roadrunner Elementary
*Thornydale Elementary
Flowing Wells Unified School District
*Centennial Elementary
*Douglas Elementary
*Hendricks Elementary
*Homer Davis Elementary
*Laguna Elementary
*Richardson Elementary (New)
Tucson Unified School District (New)
I requested nine of schools with the greatest need
*Ford Elementary
*Hudlow Elementary
*Steele Elementary
*Tolson Elementary
*Wright Elementary
*Morgan Maxwell K-8
*Hollander PK-8
*Robins K-8
Other
Basis Oro Valley Primary
Imago Dei Middle School
(No tuition, Inner City Students)
* Title I schools
Scholarship Winners 2016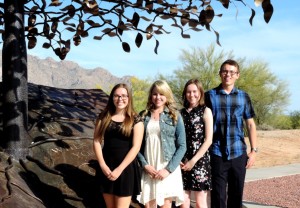 The friends of the Oro Valley Public Library have awarded four college scholarships based upon criteria including outstanding academic achievement, exemplary community service, and enrollment in a two or four year institution of higher learning in the state of Arizona.
Second year recipients Mackenzie Orlosky (CDO '16), Emily Haskell (CDO '16), Mary McNamara (Salpointe Catholic H.S. '16), and Nathan Firor (CDO '16) will each receive a $1500 award payable to the school of their choice. Beginning in 2017, scholarship recipients will each receive a $3000 award for a total of $12,000.
Monies for the scholarship program are provided through the myriad fundraising efforts of FOVPL volunteers as well as from private donations.
Additional information pertaining to scholarship applications may be accessed.
Spring 2016 Book Sale a Real Success
Thanks to All who assisted and attended.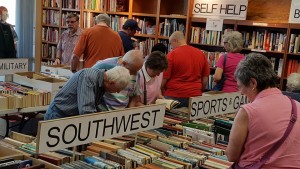 2016 Spring Book Sale
Partnership with the Tucson Children's Museum
The Friends of the Oro Valley Public Library has partnered with the new Childrens Museum Oro Valley to provide educational and fun programs. Friends of the Oro Valley Public Library has given to the Tucson Children's Museum a sum of $31,225 to support literacy for the children in our community.